It was quite a sad thing to learn of John Stabb's passing on Sunday. I'm not in any position to eulogize Stabb - I never knew the man, don't have any personal anecdotes about him to share and have not kept tabs on what he's been doing the last 25 years or so.
The little that I knew of Stabb was as a big fan of Government Issue, my connection with him was through the many times I saw Stabb perform with GI.
Government Issue was the band that bridged the Flex Your Head early DC hardcore era and the Revolution Summer explosion, they were one of the big 3 (along with Marginal Man and Scream) that were active when I arrived on the scene.
GI was such a big part of my first year and a half of punk shows. When just now I took a mental inventory of my posts on Papa Punk, I realized that nearly every long rant includes some reference to GI - and that's no accident. In fact, I was banging out a Stabb reference in a new, yet-to-be-published post when I heard the news of his death.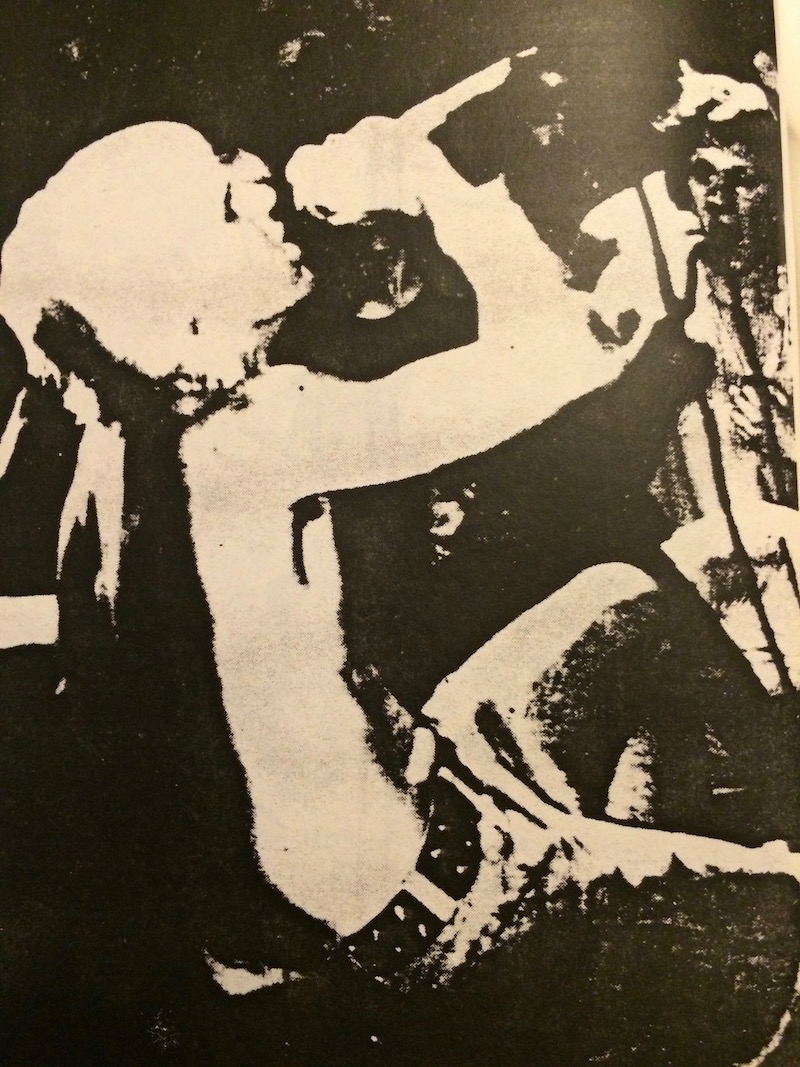 I consider myself lucky in that I got to experience a number of GI shows - all loud and intense and great fun for the most part. The majority of my lasting impressions of GI are all about John Stabb - not to diminish the rest of the band but Stabb had a dominating presence that commanded your attention.
For me it started with Stabb's eyes - from the moment he'd walk out on stage, he had this spellbound look in his eyes, he'd stare transfixed at something in front or up in the air at something or probably nothing in particular, while belting out lines or in-between singing. Always that gaze, always those fixated eyes.
The other thing I remember about Stabb at the GI shows was he had his own unique style. Stabb's look was so unconventional he'd stand out in a crowd of rebellious punk rockers. His hair always seemed to be a different color at each show, he'd come out rocking these quirky clothes, a shiny jacket or striped pants or a vest. Even around town he'd be the crazy cat in the second-hand clothes and glasses looking like a beatnik professor.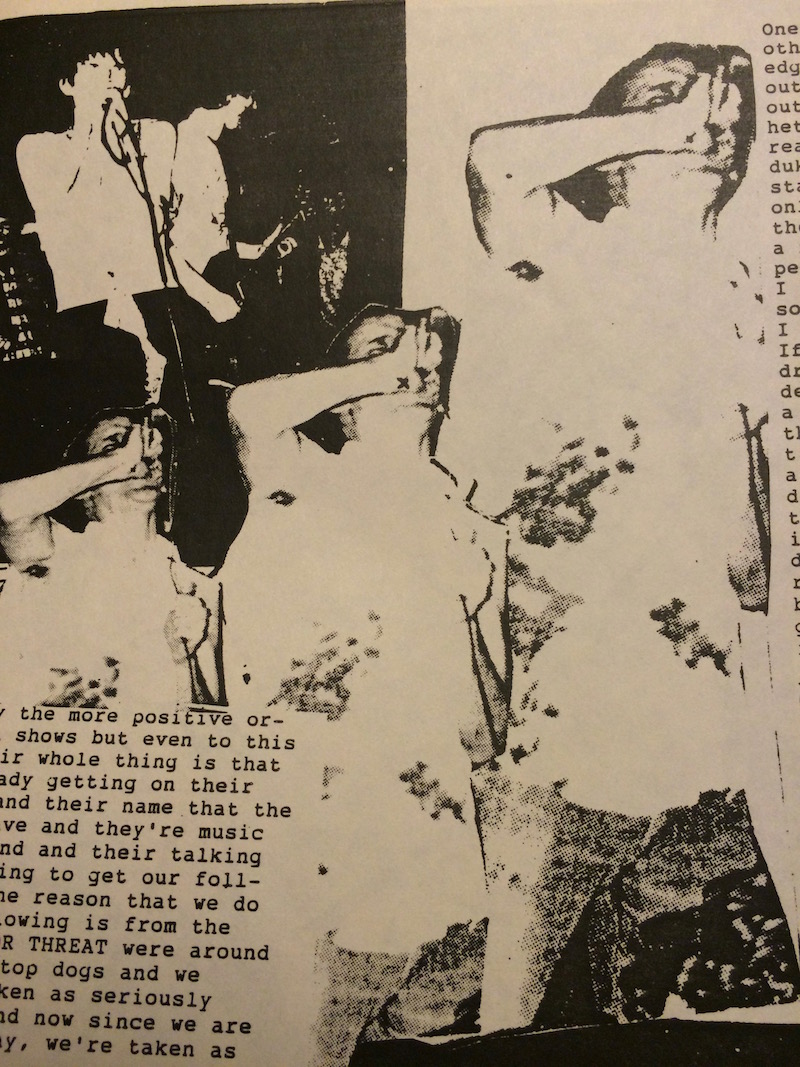 Stabb's lyrics were typically short and sweet - simple to pick up on and burn into my memory after many repeated listenings - and most of the lines ended up having a punch to them. Perfect for shouting along with Stabb at any old spot in pretty much any old song.
So while I don't recall any concrete moment, I know there were more than a few times at these many shows that I grabbed a little mic time with Stabb on stage or from the floor - he was super cool about letting the punks up front or on stage sing along, certainly a "Hall of Fame!" here, a "Vanity Fair!" there, probably a "Pleeeeease Understand" or "You were 18!" ("now you're a statistic").
Unfortunately for GI, because they were one of the few DC punk bands to keep grinding and playing shows during this period - one with roots in the legendary early days of DC punk rock no less - they began to attract bigger crowds. And rougher crowds. A lot of skinheads started showing up for Government Issue - I think some were even coming from NYC as there may not have been a whole lot of shows happening there either at the time. GI shows became tense affairs.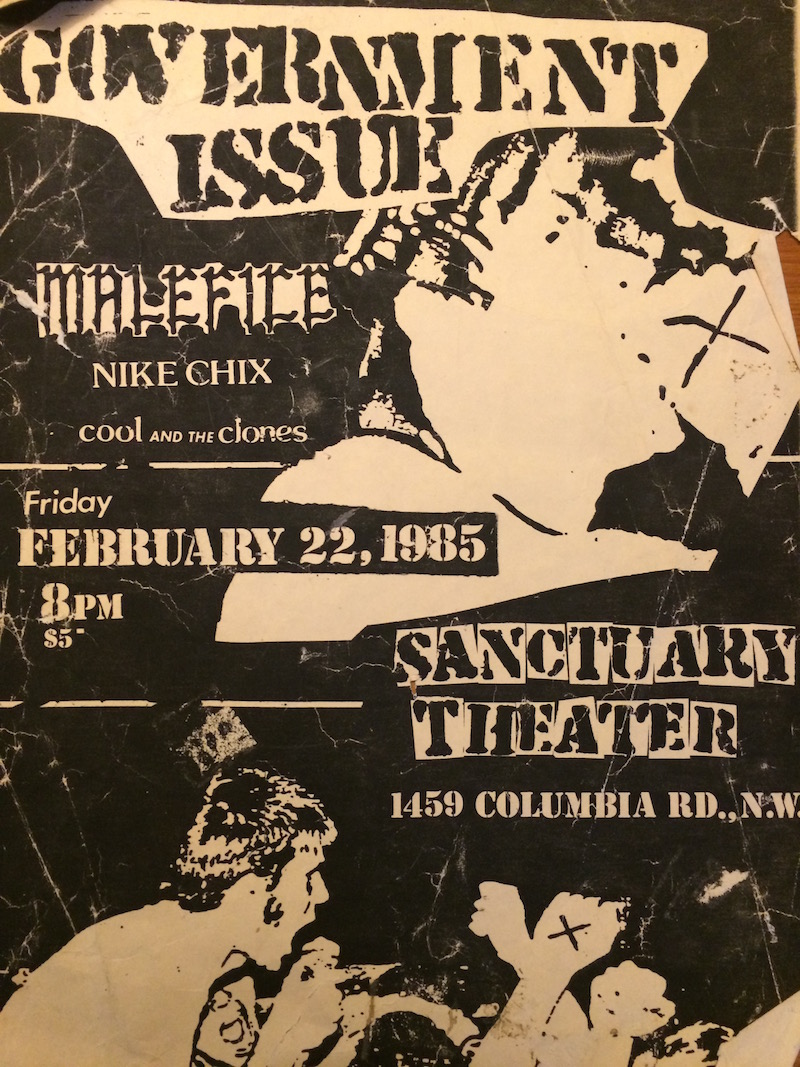 It all came to a boil at a Sanctuary Theater show and culminated with Stabb popping a dude in the face with the mic and then promptly exiting the stage - thus bringing the set to an abrupt and premature close.
Those of us at the show weren't sure what exactly happened, there had been a lot of tension in the crowd and a bit of static between Stabb and this kid on stage.
But you never could really tell what Stabb was thinking when he was performing, he had that look and smirk that made you wonder if he was partly amused or laughing on the inside at what was going on all around.
At the same time, he had definitely done something with the mic to that kid and stormed off - he must not have been too pleased, which was odd because we'd never seen him lose his cool.
"What happened to the fun?"

Government Issue, Fun and Games
Stabb took the opportunity during a YAUO interview to describe his emotions and perspective on what went down: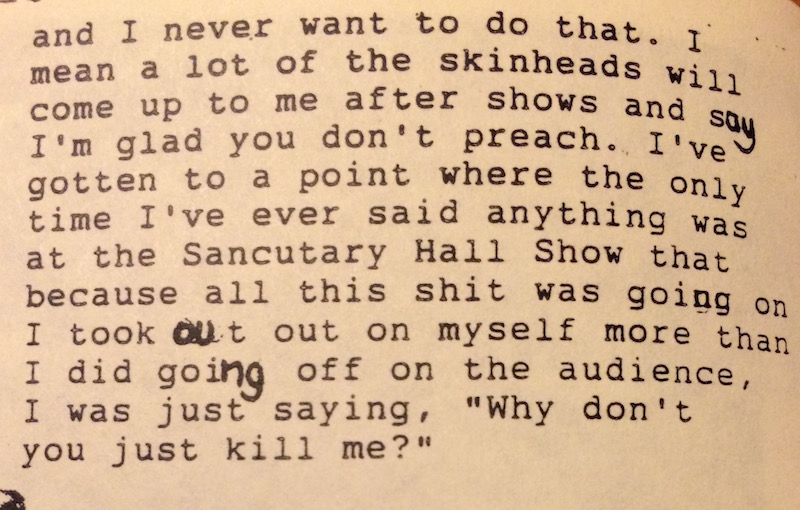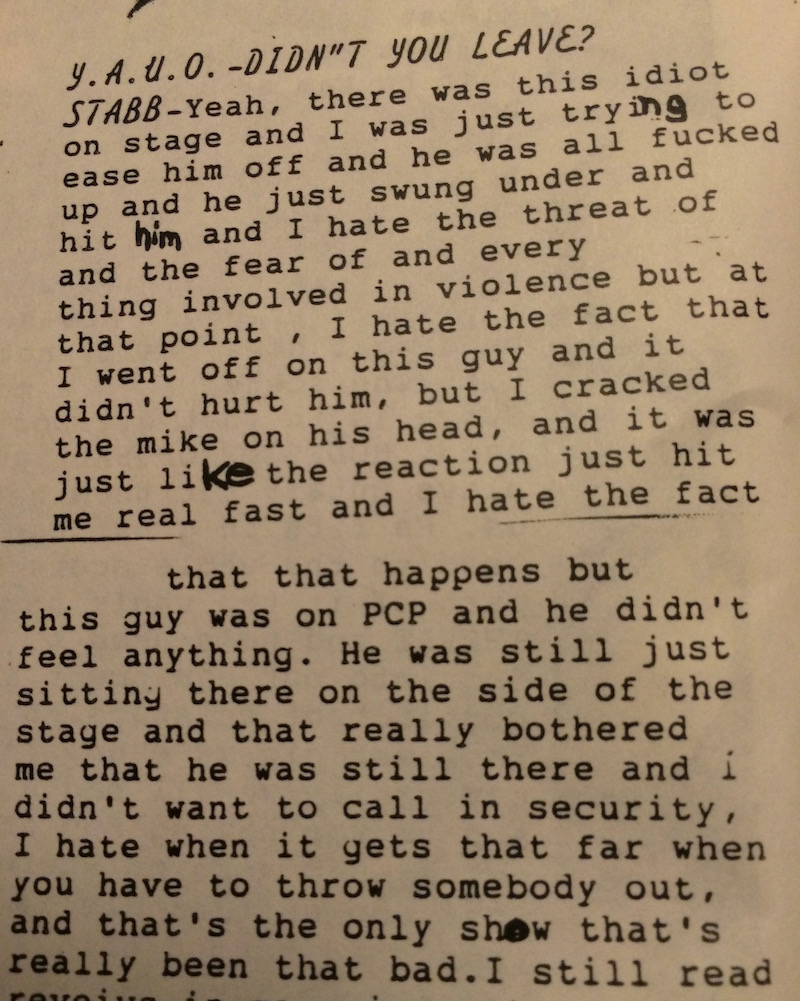 The next time I saw GI following that ill-fated Sanctuary show was on a bill with TSOL and Naked Raygun and they made up for that incident by tearing through one of their best sets I'd ever seen. Clearly the whole sordid business had stuck with Stabb as he indicated in the interview - it really seemed like this was the show where he exorcised whatever lingering demons were with him from that night.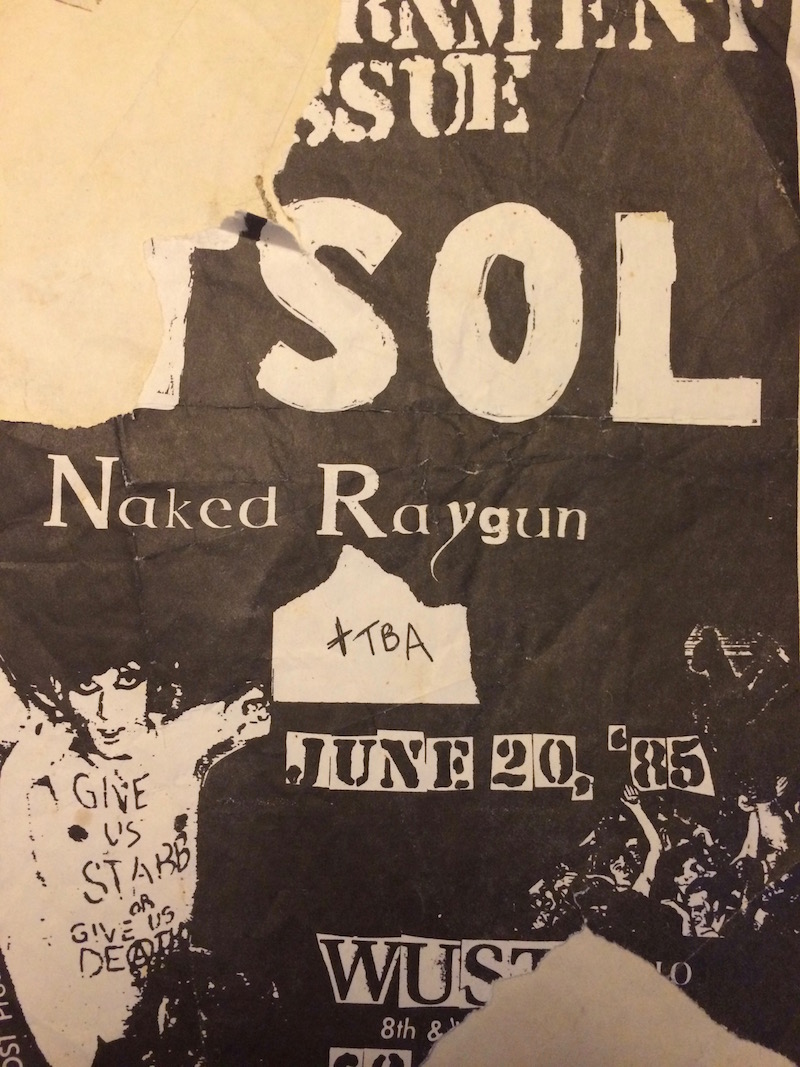 In fact a very young Papa Punk wrote a glowing review of that show corroborating that sentiment:


Stabb seemed to be genuinely interested in music, it was not uncommon to see him hanging out to catch the opening bands or spot him at a show that GI wasn't playing. He seemed shy but very approachable though I never stopped to chat with him. I was confident he could wordlessly intuit I was a GI super-fan and left it that way.
I seem to recall when my band Kids for Cash played a show GI was headlining. It was our first and only real show outside of the burbs and it was the first real stage we had been on, I mean folks could have actually done real stage dives off this stage - only there were like maybe twenty folks gathered around to watch us play when we got on.
I remember being crazy nervous - here we were playing on the same bill as freakin' Government Issue and I even thought I saw John Stabb milling about in the crowd before we got on! This was the band that figured heavily in the soundtrack of our formative punk years, hell we used to do a cover of Hall of Fame when we first started out, though I'm guessing we decided to forego performing it at this particular show.
It ended up being a pretty lousy set for us, as I recall, but that notwithstanding, was still a huge thrill.
Stabb was kind enough to allow my friends who put out the YAUO fanzine to interview him and they produced a pretty nice piece as I somberly fished it from the Papa Punk archives and gave it a read today. Most of the photos of GI and Stabb in this post came from the interview pages, all courtesy of Stabb.
Granted this interview was conducted about 30 years ago by high schoolers that were working with poor-quality tape recorders and old-school typewriters and may have been a bit spelling-challenged to boot - but it provides an interesting glimpse into Stabb at a distant point in time:
On the signature X on the back of his hand: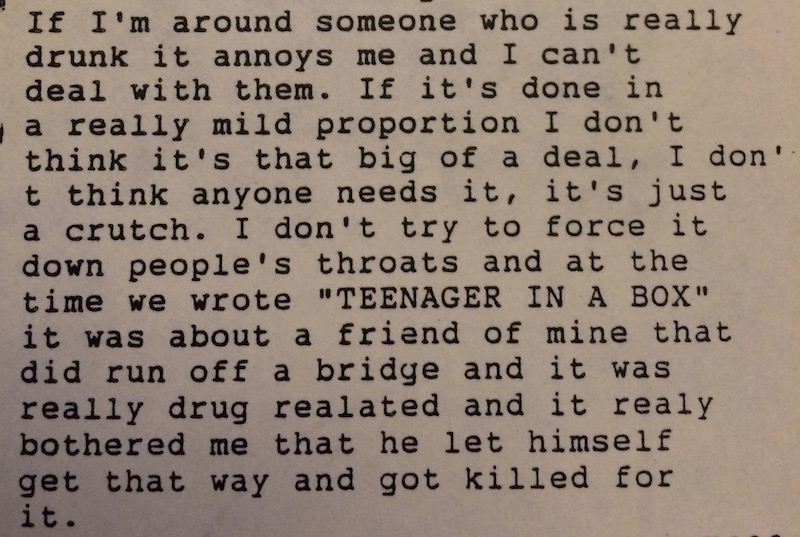 On GI's late-blooming popularity:


On GI's longevity: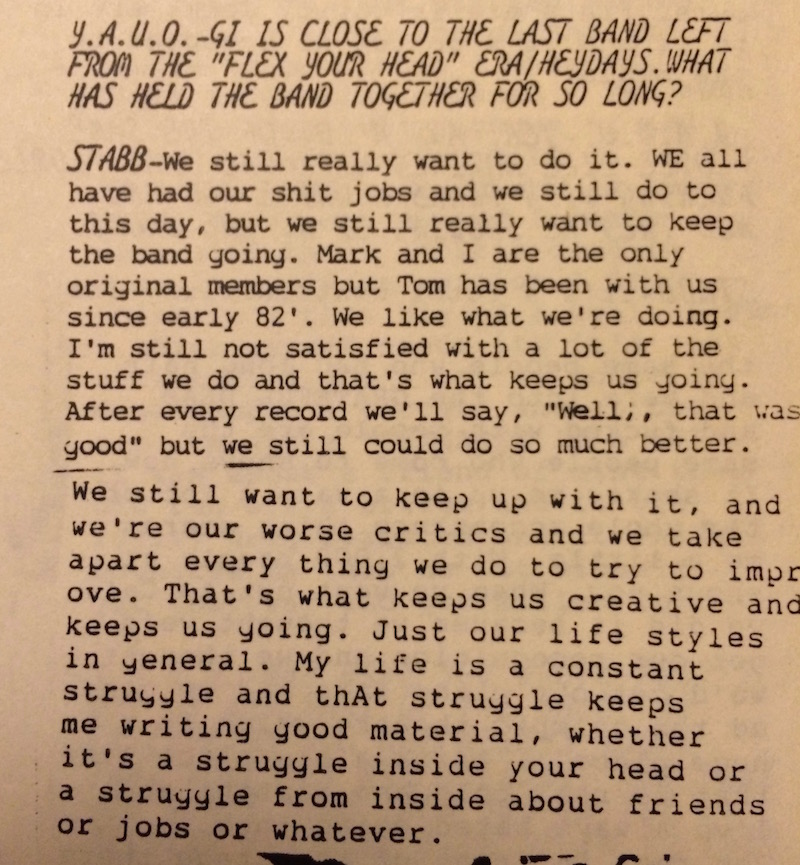 It's hard to believe it, but Stabb will struggle no more. Rest in Peace Stabb.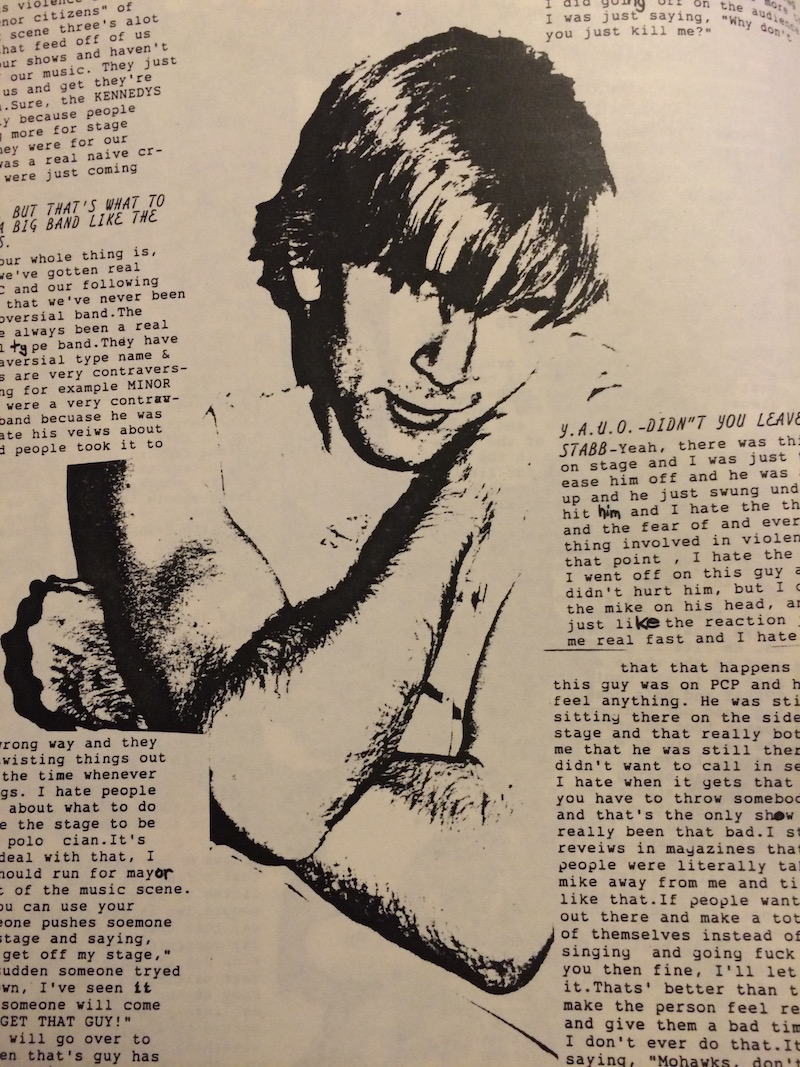 "All the things I anticipate,
tomorrow's great
and I can't wait"